5 Best Portable Ice Baths for Every Budget [2023 Reviews]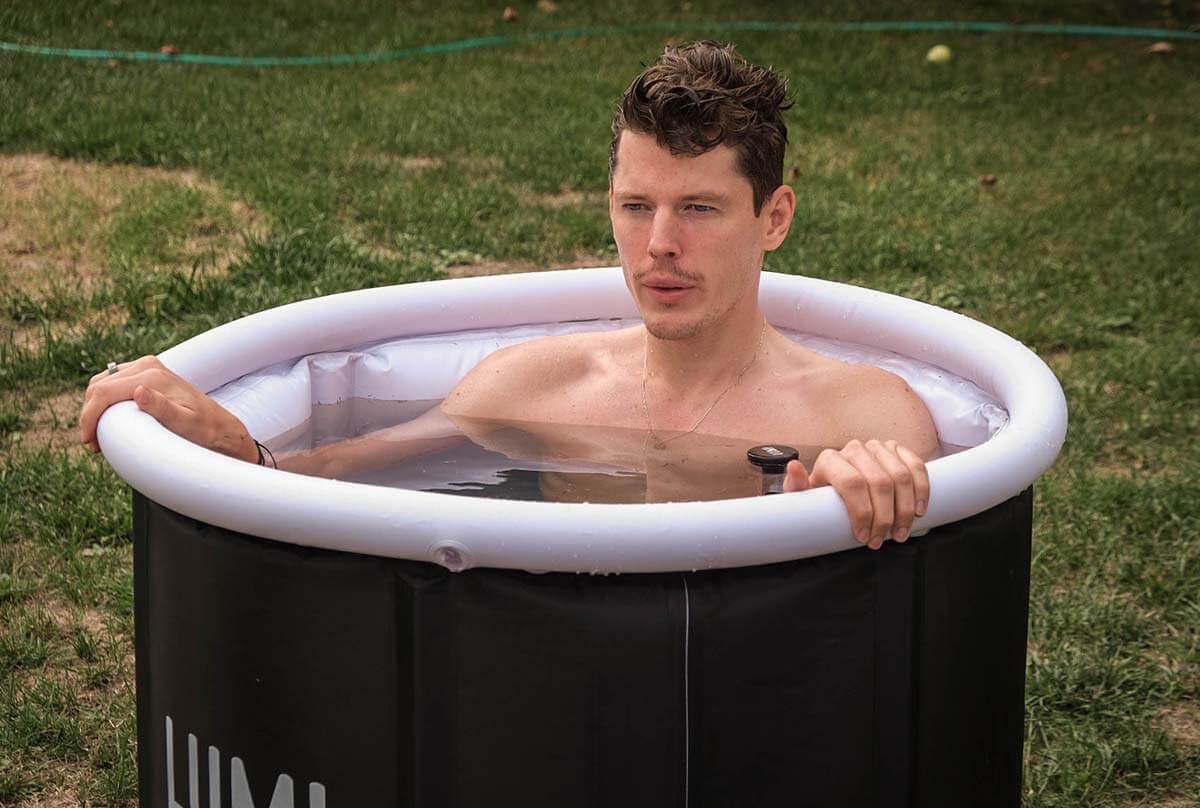 The best portable ice baths are light, simple to set up, and budget-friendly. They're a great alternative to traditional ice baths, which are bulky, cannot be transported, and often cost a small fortune.
In this guide, you'll discover 5 great portable ice baths. You'll also learn how to use and care for your tub.
Let's dive in.
⚠️ This blog post is intended for informational purposes only and is not a substitute for medical advice. Consult a healthcare professional to determine the safety and suitability of ice baths for your situation, as cold exposure may carry health risks.
Considerations
Size
Most ice baths can accommodate people up to 6 feet 7 inches (2 meters). This number can vary slightly based on the brand and model. When shopping for ice baths, look for "max. suitable height" in the product specs to make sure it's the right fit. Some models exist in larger sizes. The Cold Pod XL, for example, is a wider version of the original Cold Pod that provides an additional 120 L of space.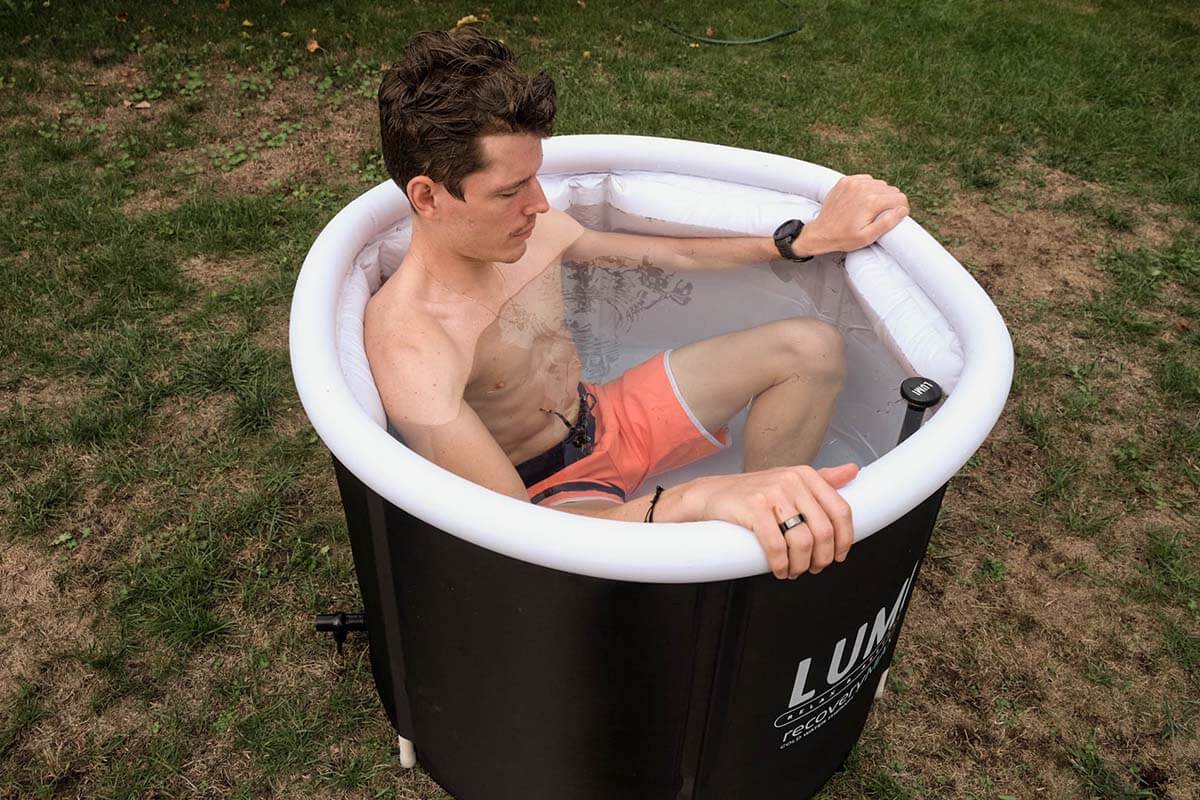 Cooling mechanism
You can cool ice baths in two ways: with ice or using an electric chiller. Most portable ice baths use the former. One exception is the Ice Pod which is a hybrid. For an extra $999, the company will send you a chiller that you can use instead of ice to regulate the temperature of your tub. While chillers are incredibly convenient, they are bulky, expensive, and require electricity.
Portability
Most portable ice baths are inflatable and can be folded for easy transport. However, there are some exceptions, like the Ice Barrel 400. It is made of hard plastic that can't be folded or taken apart. At 55 lbs, it can still be transported and set up just about anywhere but with more hassle than other models on our list, all of which weigh under 8 lbs.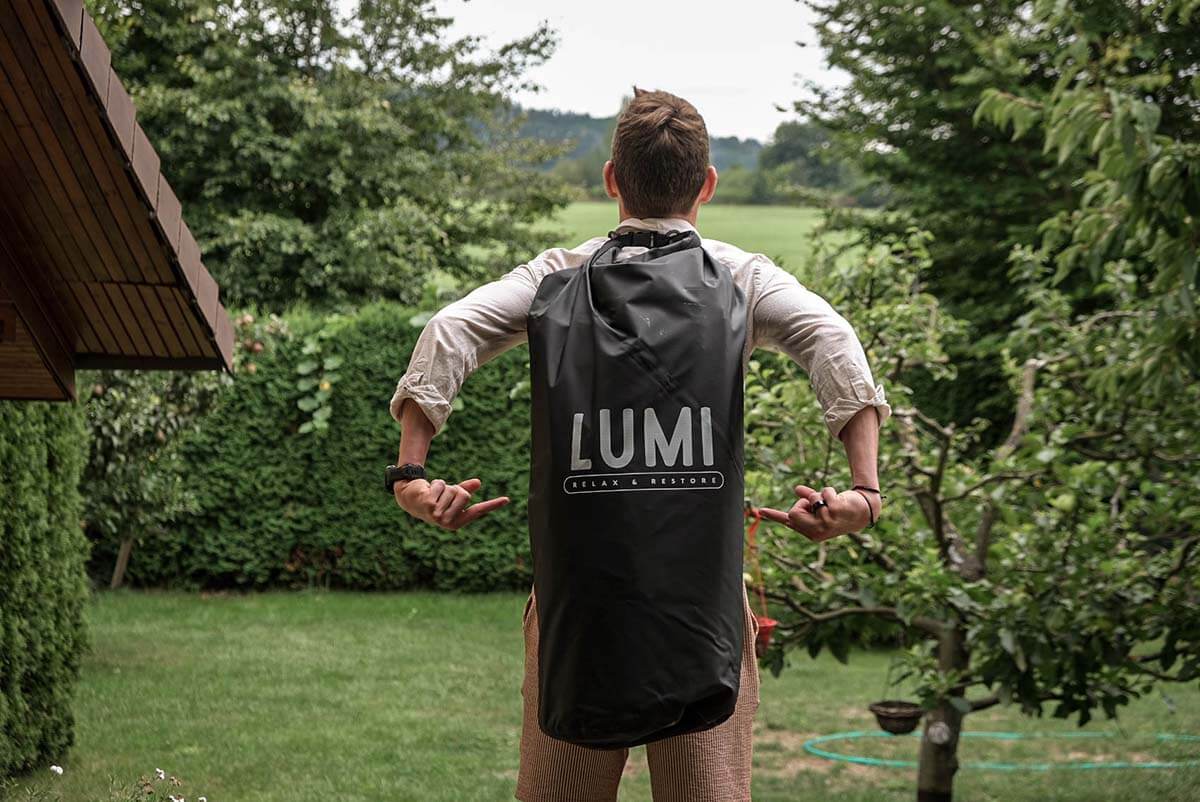 UV resistance
If you're going to leave your ice bath outside, you'll want to make sure the sun doesn't damage it. UV rays can cause materials to deteriorate, fade, and become brittle. Therefore, UV protection will help you increase the durability of your ice bath if you plan on leaving it out in the open.
Insulation
Every portable ice bath uses different insulation technology to keep the water as cool as possible. The LUMI Recovery Pod, for example, uses 3 layers of thermal insulated TPE (Thermoplastic Elastomers). Proper insulation helps keep the water cool inside your tub for a longer time - meaning you'll have to refill with ice less often, especially in warmer weather.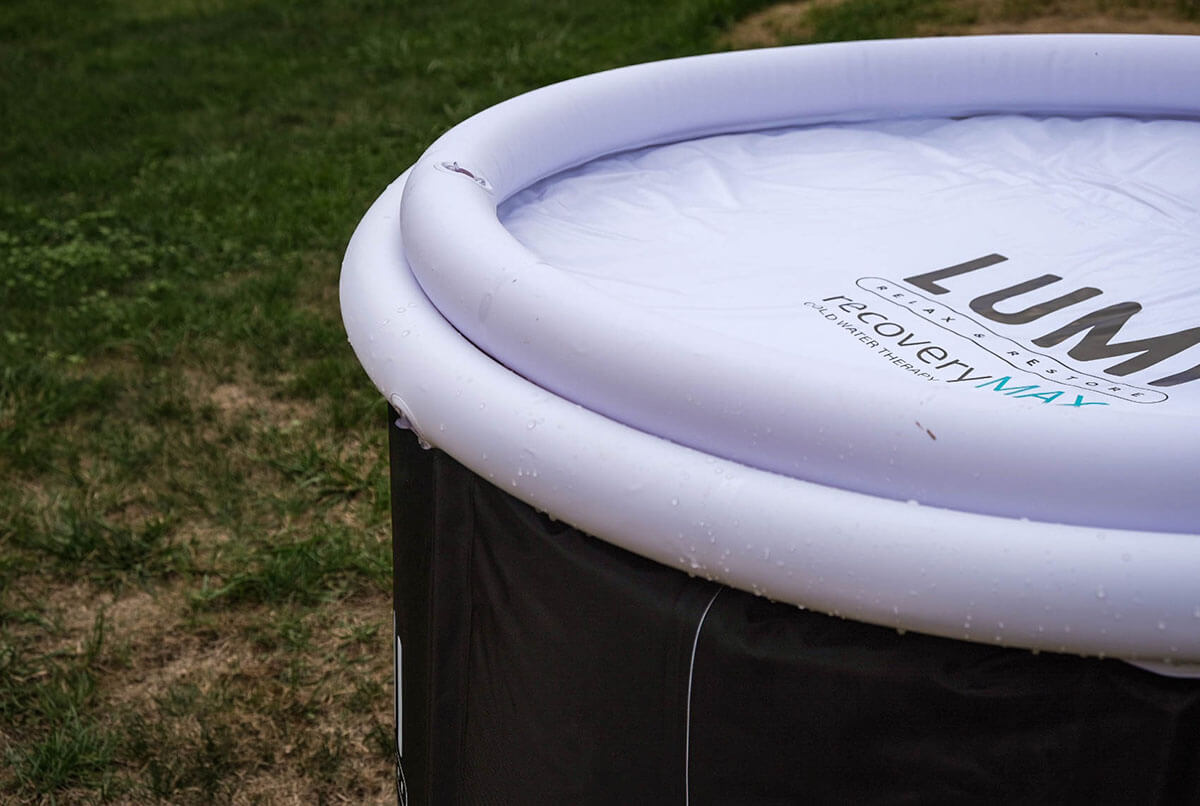 Drain valve
A drain is an important element that every ice bath should have. It allows you to quickly drain the water from the tub when you need to. Without a drain, you'll have to empty the tub one bucket of water at a time or you'll have to invest in a submersible pump. The models we've chosen for you below all have one.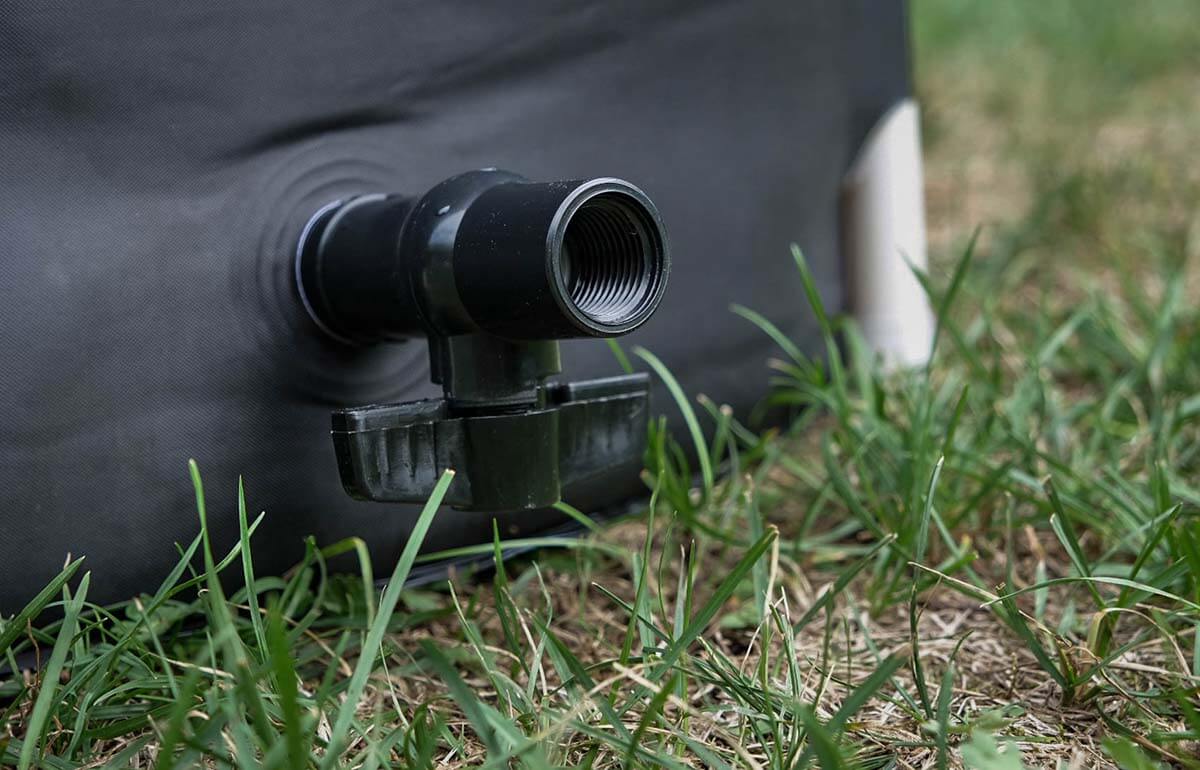 The best portable ice baths
(scroll) →
The Recovery Pod by LUMI
Ice Barrel 400
The Cold Pod
The Ice Pod by The Pod Company
Polar Recovery Tub™
Capacity
320 L
397 L
320 L
300 L
270L
Diameter
31.5″
(80 cm)
31″
(78.7 cm)
29.5″
(75 cm)
32″
(81.3 cm)
31.5″
(80 cm)
Height
29.5″
(75 cm)
42″
(106.7 cm)
29.5″
(75 cm)
29″
(73.7 cm)
29.5″
(75 cm)
Person size (up to)
6′ 7″
(200 m)
6′ 6″
(198 cm)
6′ 7″
(200 cm)
6′ 9″
(205 cm)
6′ 7″
(200 cm)
Weight (empty)
7.7 lbs
(3.5 kg)
55 lbs
(25 kg)
7.7 lbs
(3.5 kg)
7 lbs
(3.18 kg)
6.6 lbs
(3 kg)
Folds
Yes
No
Yes
Yes
Yes
Price
$99
$1,199.99
$120
$119
$119.99
Shipping
Worldwide
(from UK)
USA only
Worldwide
(from UK)
USA only
UK, USA, Australia, Canada, Ireland
Warranty
1-year
Lifetime
No
6-month
1-year
The Recovery Pod by LUMI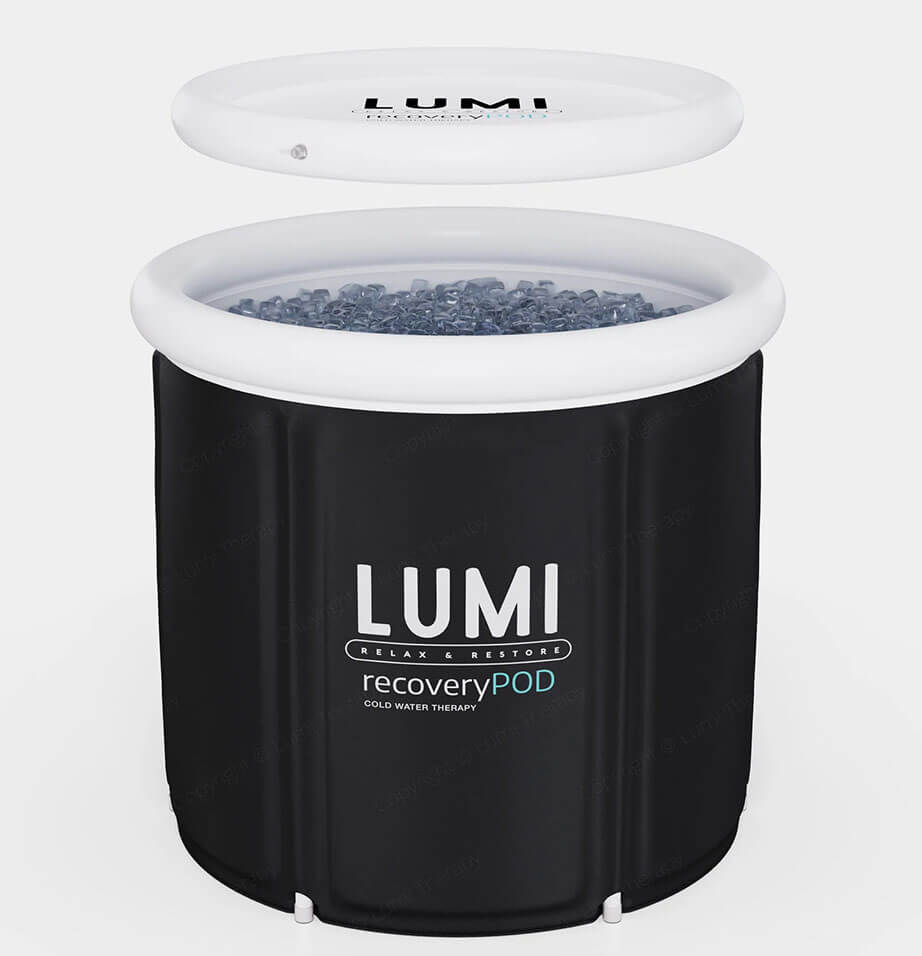 How big is it?
Capacity: 320 L
Diameter: 31.5 inches (80 cm)
Height: 29.5 inches (75 cm)
Suitable for: People up to 6 ft 7" (2m tall)
How portable is it?
Weight (empty): 7.7 lbs (3.5 kg)
Folds: Yes
Shipping and pricing
Price: $99 | €113.95 | £95
Shipping: Worldwide (14-21 days)
Warranty: 1-year
LUMI, a British company located in southwest England, sells the best portable ice bath under $100: The Recovery Pod.
Crafted using thermal TPE and ripstop polyester, it provides exceptional insulation and durability, keeping the water inside the tub icy cold even in hot weather.
This ice bath is designed to sit securely on 6 support legs. It comes with a Thermo lid, a telescopic drain hose, repair patches, and a foot pump for inflating the top ring as well as the Thermo lid.
For those seeking extra capacity and insulation, consider the Recovery Pod Max. It has an additional 100 L of capacity and two extra layers of insulation. It also comes with a slick roll-top dry bag that fits the ice bath and all of its accessories.
LUMI offers free economy worldwide shipping with delivery times between 30 and 40 days. Standard delivery, though not free, takes half the time. It costs $13 for Europe and the UK, $15 for the US, and around $40 for the rest of the world. Not too bad.
There's a 1-year warranty on the tub and a 1-month warranty on the inflatables (ie. the top ring and Thermo lid) that covers any structure defects and leakages.
Ice Barrel 400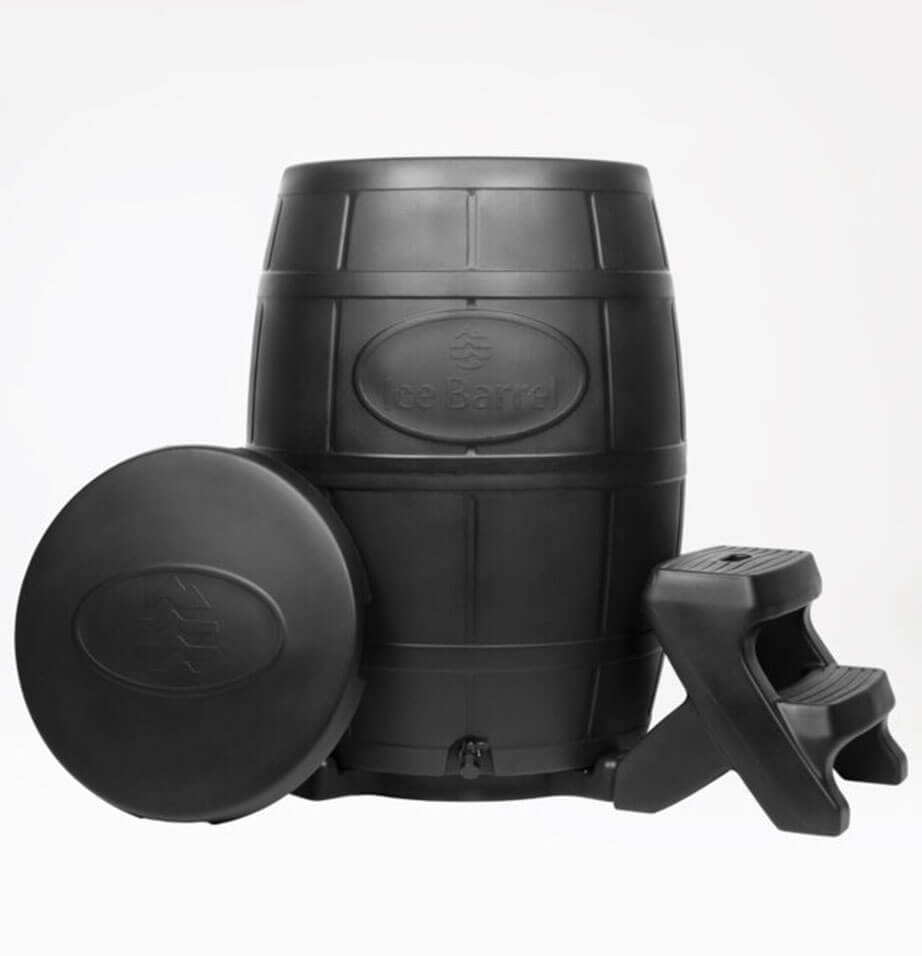 How big is it?
Capacity: 397 L
Diameter: 31 inches (78.7 cm)
Height: 42 inches (106.7 cm)
Suitable for: People up to 6 ft 6" (198 cm) and 300 pounds (136 kg)
How portable is it?
Weight (empty): 55 lbs (25 kg)
Folds: No
Pricing and shipping
Price: $1,199.99
Shipping: US and Canada (7-10 business days)
Warranty: Limited lifetime
The Ice Barrel 400 stands out in terms of design and comfort.
This ice bath has the shape of a barrel, setting it apart from traditional tubs. It is crafted from recycled plastic. And because it's made of hard plastic, it is as durable and leakproof as an ice bath can get. In fact, Ice Barrel has such confidence in its build quality that they offer a limited lifetime warranty.
With a substantial 397 L capacity, the Ice Barrel 400 is one of the largest portable ice baths on the market today. It's also the heaviest. It weighs 55 lbs (25 kg) - making it less portable compared to inflatable tubs.
Now, let's talk about the elephant in the room: the price. The Ice Barrel 400 comes at $1,199.99, which is roughly ten times what you'd pay for an inflatable ice bath. But consider this an investment if you prioritize durability and long-term use.
It is sold with a stool for easy access, a sturdy stand for stability, and a cover to keep out debris.
Delivery times are 4 to 6 weeks. So plan ahead if you want to gift it this Christmas.
(use coupon code COLDTODAY for $75 off)
The Cold Pod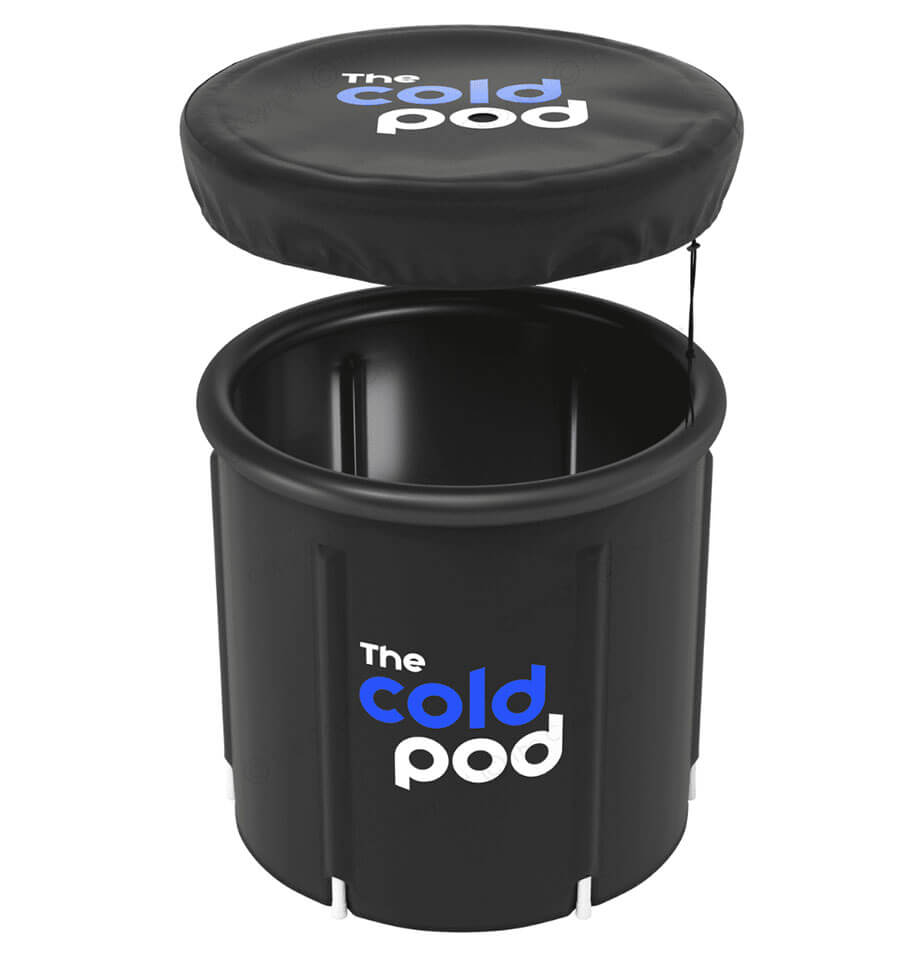 How big is it?
Capacity: 320 L
Diameter: 29.5 inches (75 cm)
Height: 29.5 inches (75 cm)
Suitable for: People up to 6 ft 7" foot (2m tall)
How portable is it?
Weight (empty): 7.7 lbs (3.5 kg)
Folds: Yes
Shipping and pricing
Price: $120 | £95.00
Shipping: Worldwide (5 to 8 days)
Warranty: No
This Cold Pod comes in two sizes, standard and large, catering to those who prefer extra space. However, the standard 320 L model should fit most users.
It folds up neatly and even includes a carry bag, providing convenient storage for all components: pump, drain pipe, and cover.
The Cold Pod ships worldwide in just 5 to 8 days—that's faster than most. Count an additional $25 to $45 for shipping outside of the UK, depending on your location.
The Cold Pod is insulated with a layer of pearl foam sandwiched between two layers of PVC. A fourth layer made of nylon ensures the durability of the walls.
On paper, this ice bath is very similar to the LUMI Recovery Pod—same volume, same height, and same weight. However, it lacks a warranty, offering only a 30-day refund policy, which means you'll be responsible for any malfunctions or leaks beyond that period.
You can get it directly from the Cold Pod website as well as on Amazon for $139.99.
The Ice Pod by The Pod Company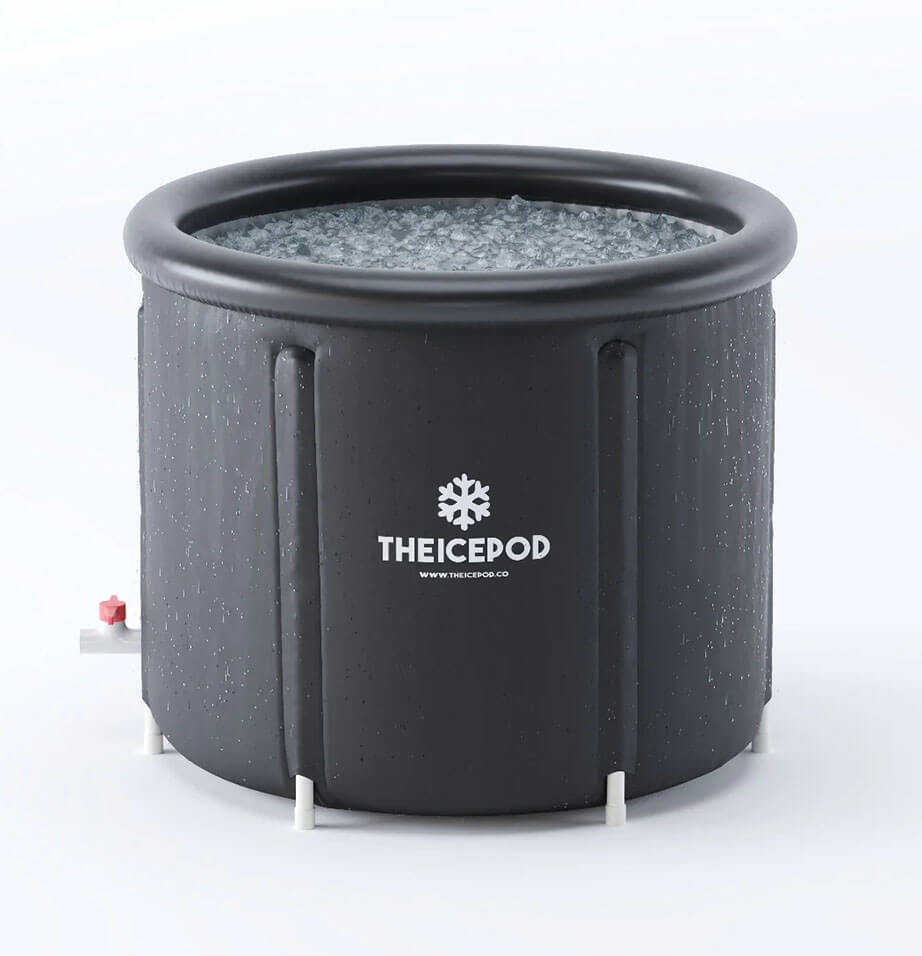 How big is it?
Capacity: 300 L
Diameter: 32 inches (81.3 cm)
Height: 29 inches (73.7 cm)
Suitable for: People up to 6 ft 9" (2.1m); up to 250-300lbs (115kg - 135kg)
How portable is it?
Weight (empty): 7 lbs (3.18 kg)
Folds: Yes
Pricing and shipping
Price: $119
Shipping: US only (2-6 business days)
Warranty: 6-month (extendable)
The Ice Pod is a 300-liter portable ice bath made by the Pod Company. Like other inflatable models we've reviewed, this ice bath comes complete with a hand pump, a lid, and a drainage hose. It also comes with a 6-month full warranty that you can choose to extend when checking out.
With its 32″ diameter, the Ice Pod can fit people that are as tall as 6′ 9″, which is the tallest we've seen advertised from all brands we've come across when doing our research for this post. It features a 3-layer insulation system: an inner layer of phthalate-free PVC, a middle layer of pearl tech, and an outer layer of nylon for prolonged durability.
But what truly sets the Pod Company apart from the competition is its offering of water chillers. For $999, you can get a 280-watt water chiller designed to cool the water in your ice bath to 39°F (4°C) and keep it there with minimal power consumption. This saves you the hassle of having to buy ice every time you want to use the Ice Pod. According to the company, the savings you'll make on ice could help you recoup your $999 investment within a year. (Note: The chiller is compatible with any ice bath.)
The Pod Company currently only ships to the USA and its territories.
Polar Recovery Tub™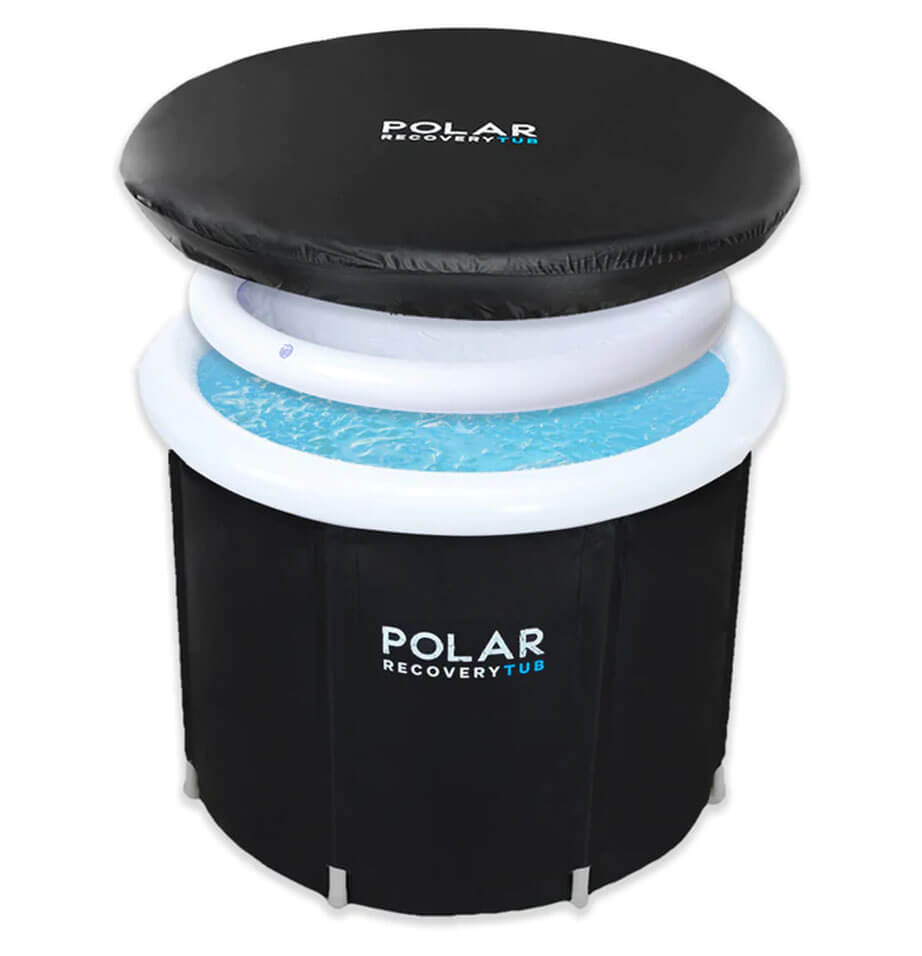 How big is it?
Capacity: 270L
Diameter: 31.5 inches (80 cm)
Height: 29.5 inches (75 cm)
Suitable for: People up to 6 ft 7" (2m tall)
How portable is it?
Weight (empty): 6.6 lbs (3 kg)
Folds: Yes
Shipping and pricing
Price: $119.99 | £89.99 | €149.95
Shipping: UK, USA, Australia, Canada, and Ireland
Warranty: 1-year
Polar Recovery is a company out of the United Kingdom. Their Recovery Tub is a budget-friendly portable ice bath made from durable materials. The product is shipped with a floating thermometer, reusable ice pack, hand pump, a telescopic drain hose, and a cover to keep debris out when not in use.
With a 270L capacity, it's on the smaller side among our recommendations. If you're taller or need more room, consider getting a larger model.
Setting up the Polar Recovery Tub™ is simple. Simply insert the 8 support poles, inflate the top ring, and you're ready to go.
It seems that Polar Recovery is only shipping to the United Kingdom, the United States, Australia, Canada, and Ireland at the moment. So if you live in Europe (except Ireland), this one isn't going to be for you.
The Polar Recovery Tub™ is available on polar-recovery.com as well as on Amazon UK and US.
FAQ
How much water do I need?
You want to fill up your ice bath so that you can immerse yourself up to your shoulders without the water overflowing.
As a rule of thumb, never fill up the ice bath more than two-thirds of the way. The water will rise once you add the ice and yourself to the tub.
When starting out, to avoid overflowing, begin with 50% water and gradually adjust to your preferred water level. So if the capacity of your ice bath is 400 L, start with 200 L and go from there.
How much ice to use?
Ice Pod recommends adding anywhere between 15 and 40 lbs of ice (7-18kg) to the tub per session.
Again, figuring out exactly how much ice you need to get the temperature of your ice bath where you want it to be will take some trial and error. Be patient. Start with less ice (eg. 15 lbs) and add more gradually. Note that the more water you have in your tub, the more ice you'll need to cool it down.
How long should you stay in an ice bath?
Stay in the ice bath for 2-3 minutes.
When you get in the ice bath, you'll tense up and hyperventilate. Slow down your breathing and try to relax. After a while, you'll feel a sense of calm and peace. That's the state we're looking for. Once you've reached that state, you can end your session.
What temperature is recommended?
Cold water immersion can take some getting used to. Start with 59° F (15°C) and progressively decrease the temperature session after session.
If you don't have an ice bath yet, start building up your resistance to the cold by taking cold or contrast showers daily.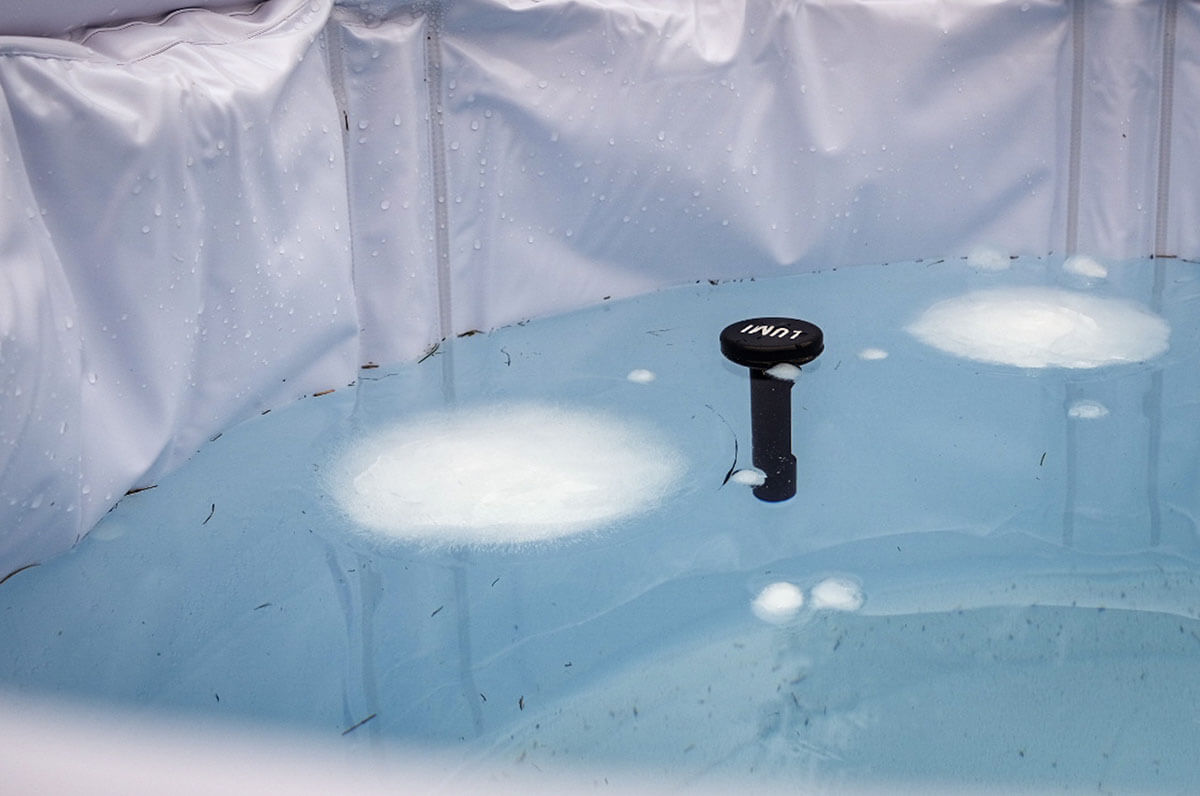 How often do I change the water in the tub?
Swap out the water every 3 to 5 sessions and give it a good clean before refilling.
Some say Epsom salt has disinfecting properties and can be used to keep water clean longer. The recommended amount is about 1 lb or 0.5kg per tub. Do not use table salt or other types of chloride salts.
How do I clean and maintain an ice bath?
Wash your ice bath with soap and water before you use it for the first time and every time you drain the water. Do not use bleach or other chemical products - they may damage your tub's isolating and waterproofing properties.
Where should I set up my portable ice bath?
Most portable ice baths are UV resistant so you can use them outside as well as inside. Check your ice bath's instruction manual for "maximum temperatures". The LUMI Recovery Pod can sustain temperatures of up to 50C, for example.
Set it up on top of a slope or near a sink so you can drain it without flooding the area.
Beware if you live in an apartment. Once filled up, your ice bath will weigh over 300 kg. Add your body weight, and that's a lot of weight in a small area.
Your balcony may not be built to sustain such pressure.
Consult your developer, builder, Homeowners Association (HOA), Condominium Board, or structural engineer before it is safe to set up a portable ice bath on your balcony.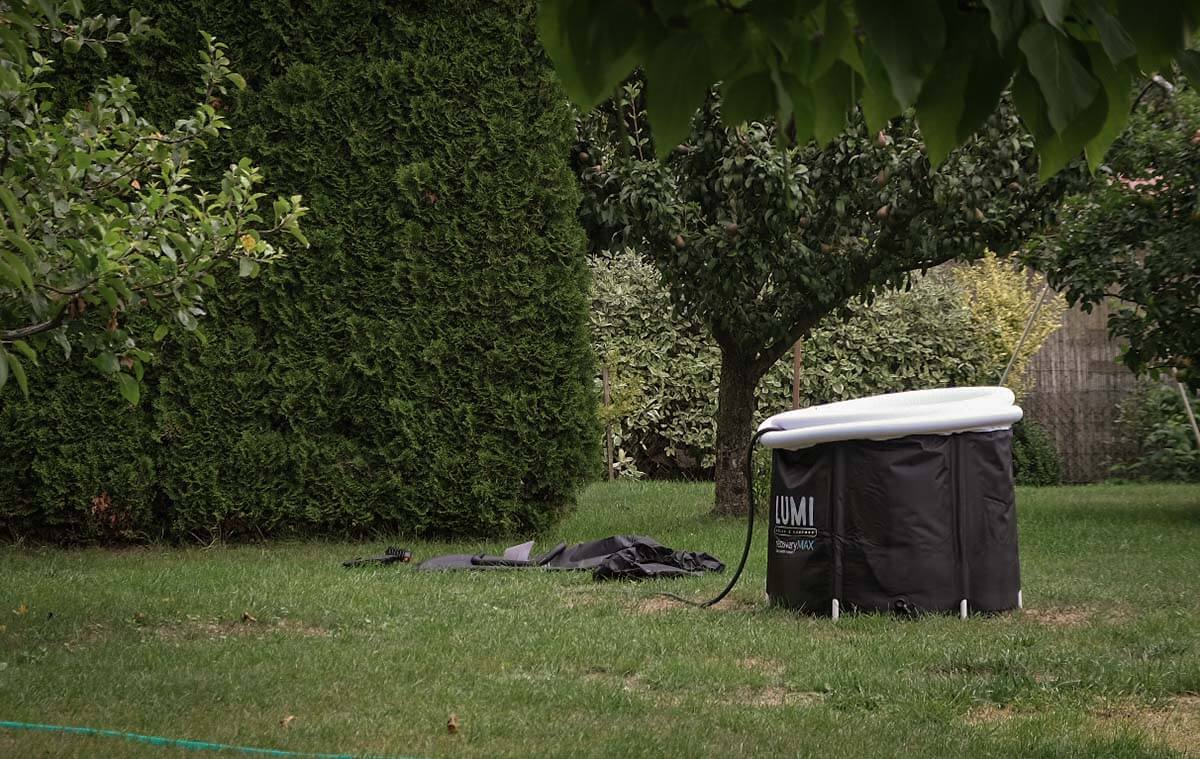 Benefits of Ice Baths: Real or Made Up?
Despite what you might read online, there is a lack of evidence supporting claims that cold water immersion has positive impacts on sleep, workout recovery, mood, weight loss, or immunity.
Just check out some of these studies:
"Cold water immersion is no more effective than active recovery for minimizing the inflammatory and stress responses in muscle after resistance exercise" (J Physiol, 2017)
"The results suggest no relevant effects of 3-week repeated [cold water immersion] on leukocyte counts in healthy men." (Frontiers in Physiology, 2023)
"Current evidence suggests CWI has either nil or detrimental effects on physiological adaptations to resistance training" (Front Sports Act Living, 2021)
All the peer-reviewed studies I've found reach similar conclusions, stating things like "there is still a lack of evidence", "results are unclear", or "further studies with larger sample sizes are needed."
Now, if you've ever taken an ice bath or a cold shower, you know that you feel amazing afterward. And that, for me, is enough to continue practicing cold water exposure year after year.
Full disclosure: When you buy a product through our links, we may earn a small commission. This helps us keep going, and it won't cost you a penny. Thanks for backing us.